(Scroll down for more pictures and link to the top 3 stories from each category)
After a three-year hiatus, during which we were unable to hold our competition due to the COVID-19 pandemic or just holding it virtually as was the case last year, the in-person final for our Creative Writing Competition made a triumphant return, with a -fictional- vengeance! As has become our custom for most events, the first round took place virtually, attracting over 40 entries from all corners of the country. From this pool, we carefully selected 24 finalists, with 12 in each category (junior and senior), who were invited to the Santiago College campus in Lo Barnechea for the thrilling final showdown.
Participants from Santiago, Viña del Mar, Curicó, Concepción, and Frutillar arrived bright and early on a Saturday morning. Some were accompanied by proud parents, while others were joined by their teachers, all sharing in the nerves and excitement of the students and young writers. After listening to last year's Senior Category Winner, Macarena Errecaborde, read her short story "The Ink Girl", the finalists were ushered into specially prepared workshops, into the capable hands of Melanie Rowe and Jannah Laine, where they tapped into their creative energies, allowing their thoughts to flow freely onto the page.
Prior to the event, the finalists had been asked to contemplate their favorite songs, as these would serve as inspiration for the writing prompt: "Write about the friendship that inspired your favorite song." Their minds buzzed with ideas, and their fingers raced across the keyboards, all in an effort to convey their voices through the written word on the screens before them.
At the end of this intensive session, they emerged with stories that would be evaluated by our panel of judges, eagerly waiting on the sidelines. One judge among them was Jolanta Polk, a British Embassy official and published author, who also served as our esteemed Guest Speaker for the day.
Alas, not all finalists can be declared winners and after an arduous judging process, we arrived to our top three places for each category. 
Junior Category (12-15 years old)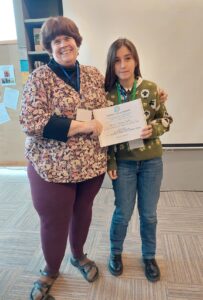 Senior Category (16-19 years old)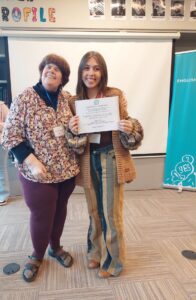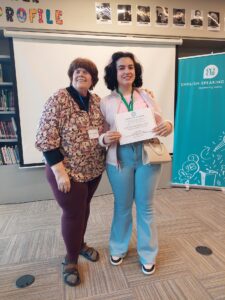 Great many thanks to Santiago College, who were very gracious in allowing us to use their campus on the day; Sally Thompson for all her support (and judge duties!); Santiago Caracciolo for the seamless tech support; and their students that helped out on a Saturday, when they could have been sleeping in or having fun!
Our amazing Creative Writing Task Force: leader Nithiya Kala, Lynnann Lovejoy, Christine Jeppesen, Verónica Cordero and last but certainly not least, our workshop teachers Melanie Rowe and Jannah Laine. 
Our Guest Speaker, Jolanta Polk (also doubling in judge duties) for inspiring us and letting us know how terrifying and exciting writing can be at the same time.
Our prestigious and hard working judges on the day: Nathan Allen,  Tamara Álvarez, Jill Betsill, Verónica Cordero, Michelle Duggan, Mónica Le May, as well already mentioned Jolanta Polk and Sally Thompson.
Our judges from Round 1 (virtual): María Eugenia Bambach, Verónica Cordero, Daniela Correa, Neela Chatta, Christine Jeppesen, Emma Johnston, Erika Mery, Pelusa Orellana, Virginia Pichilaf, Viviana Rojas, Lorena Soto and Eduardo Vásquez.
Please scroll down for more pictures from the day!
SCHOOLS REPRESENTED IN THE FINAL
Andrée English School, Santiago
Campvs College, Santiago
Deutsche Schule, Concepción
Colegio Internacional SEK, Santiago
Colegio Kopernikus, Frutillar
Colegio Pedro de Valdivia – Las Condes, Santiago
Colegio Pedro de Valdivia – Peñalolén, Santiago
Craighouse School, Santiago
Colegio La Maisonette, Santiago
Orchard College, Curicó
St. Margaret's British School for Girls, Viña del Mar.
St. Peter's School, Viña del Mar.
The Grange School, Santiago
The Mayflower School, Santiago
Villa María Academy, Santiago
Wenlock School, Santiago